GPS Camera 55
Recent releases:
Version 2.4 adding QR-code stamp option.
Version 2.3 with new placement of trigger button for iPads , options to share photos with removed GPS/EFIX/IPTC and more.
Version 2.5 adding more options for QR-codes, including ability to share/print QR-codes PDF for the selected points/photos.
Version 2.6 with alternative PIN codes to open and alternative workspace and multiline point notes.
Soon: Version 3.7 with ability to re-apply comments from existing points/photos to all manual comment fields of a new photo/point. Should give a productivity boost to re-inspections!
TROUBLESHOOTING
Compass readings are really odd, stay at North and then jumps to South. Help!
Where is that stamp on the photo!?
You can always reach us at geocamera@blocoware.com . If there is no reply within 24 hours, please check your spam folder as we do reply to every support email. Our phone number is +420 724 730 447 (also Whatsapp and iMessage), but we'd prefer if you contact us via MENU > FEEDBACK & SUPPORT > "There is a problem", as support email will then contain information on your device model and iOS version.
WORKING WITH THE APP
Preview on Youtube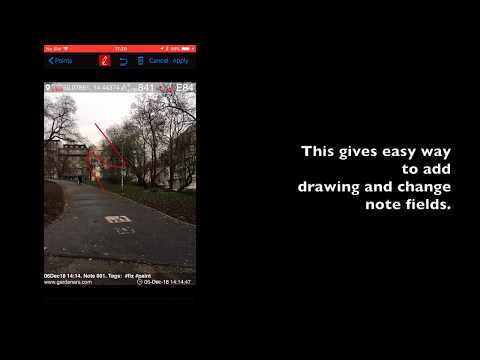 One note on a video - I forgot to mention that you can tap on the camera screen to show the focus square, plus you can change exposure by moving finger up/down on the camera screen, of course.
LOCATION OVERLAY
Supports decimal, dm or dms coordinates formats as well as UTM and MGRS.
True or magnetic heading. Degrees or mils. Built-in compass in the app and stamp in the photo show the direction in which iPhone/iPad's camera is looking.
Accuracy and altitude in either feet or meters.
Version 1.2 allows to hide/show location overlay in its entirety.
Version 1.2.1 adds options to hide/show coordinates, altitude and direction fields of the location overlay.
CAMERA AND CAPTURE SETTINGS
Save photo automatically or open it in preview to annotate before saving.
Option to save copy of the photo to the photo library, either or both original and stamped photo.
Version 1.9.4 adds option to automatically save a copy of a photo to iCloud drive.
Version 1.3 adds a companion Apple Watch app for the remote control over a camera shutter button.
Version 1.5 adds ability to use volume up/down buttons for taking photos.
ANNOTATE AND COMMENT
Before or after saving the photo you can zoom in/out in the photo preview and draw on the image with your finger or Apple pencil.
Notes overlay for the photo supports Title, Note, Tags/Folder and Address.
Address can be pre-filled automatically based on the photo location or you can manually fill this field.
You can change notes and add more annotations later on (MENU > POINTS > tap on an image in the point row).
MENU > POINTS > tapping on a point row will open point editor where you can add an audio note for the image/point.
Timestamp options do include many formats and you should always find your preferred languages between them as well.
Version 1.2.1 adds option to hide/show the timestamp part of the overlay.
Version 1.3 adds:
Custom colors for overlay texts and background.
Option to hide/show whole notes overlay at the bottom.
Option to show 3x3 grid for the camera.
Date only format option for the timestamp field.
Here is a dedicated page on setting up notes and comments for the photo, should you need it.
Version 1.5 adds:
Version 1.9.3 adds option to show a cross in the camera screen center.
Version 1.9.4 adds option to keep this center cross on a stamped photo.
SHARE AND EXCHANGE
You can select multiple points to share via MENU > POINTS or share the whole points collection via MENU > POINT COLLECTIONS.
Images can be shared with or without their location/notes text and with or without the location/notes overlay.
If you need to transfer points/images in their entirety to another device, use the KMZ (Google Earth archive) export format - this allows to transfer points including images, image notes, annotations, audio notes, to another device.
More on photo/points sharing:
PDF reports:
Share images between devices/mac/pc.
You can also use Airdrop fo Mac, email or any other file sharing option.
ORGANIZE, SEARCH & FILTER
You can organize images into collections/folders. Existing images/points can be moved between collections.
MENU > POINTS screen enables you to search by point/image notes, address, tags fields, filter by creation month, sort by proximity or show points/images only for the specific collection.
IMPORT
MENU > IMPORT FROM LIBRARY will allow you to pick and import photo(s) from the photo library and the app will do its best to parse tiff/exif/gps/iptc data in the photo to restore location, direction and notes for the stamp.
NAVIGATE
You can navigate to a point/image by opening it via MENU > POINTS and using Navigate button in the point editor screen.
MAP VIEW
Image/point location on a map can be reviewed by tapping on a MAP button in the point editor screen (MENU > POINTS > tap on a point row).
You can view all points for a collection on a map. MENU > POINT COLLECTIONS > Tap on a settings button in the collection row and then tap on a Map row in the collection editor.
CUSTOM WATERMARK
Version 1.4 adds a custom watermark option with your own image, text and colors. Here is more on a custom watermark setup .
Version 1.9.4 adds options for a custom watermark placement on a stamped photo.
QR-CODE STAMP AND QR-CODES PDF
OTHER OVERLAYS
Helper overlays include 3x3 grid and center cross. You can switch them on in Settings > Other overlays.
From version 1.9.4 center cross overlay can also be applied to the stamped photo and you can customize its color.
TIPS AND TRICKS
Using extra fields that are exported in Google Earth KMZ by the app and customizing a point/photo balloon in Google Earth on PC or Mac.
PROTECT
VIDEO
PRO PACK UPGRADE
You can do a lot with the basic functions in the app. Here is what PRO PACK one time purchase adds on top of it:
Removes the basic version watermark and allows to apply a custom watermark with your image, text, colors .
Adds ability to create additional point/image collections.
Enables sharing of more than 5 points/images at once.
Adds export/import capabilities. In particular, KMZ export/import enables to transfer collections or selected waypoints between devices.
Enables batch import of multiple photos from the photo library.
Adds ability to save hand drawn annotations for the image.
Pro pack upgrade is a one off purchase, NO recurring charges or subscription involved. You can always restore this purchase on the different device with the same Apple ID.
More information on PRO pack upgrade
PRIVACY
ADDITIONAL CONTACTS
You can also visit our Facebook page at fb.me/cameragps55
Or send messages to our Facebook page at m.me/cameragps55
Reddit: u/blocoware
MORE APPS FROM US
Land navigation and compass app

GPS Team 55 - Team tracking and collaboration.

Docs ▪︎ Free in AppStore ▪︎ Public beta version (free) .
Speedometer 55 PRO. Mileage and speed tracker.

Planimeter 55. Measure area, perimeter, distance.

Professional GPS taximeter

Q&A
How to delete the whole collection/folder with photo-points?
If camera ever goes super exposed, please tap anywhere on the camera screen to recalculate the exposure.