Camera settings.
With new versions, as options have been added, most of these settings have moved to the dedicated screens under Settings.
Capture
Configure here if the app should save the photo automatically on capture or open it in the preview (default).
Save
Captured photo will always be saved in the app itself. As an extra option, you can configure if the app should save a copy of either/both original and stamped photo to the photo library.
Version 1.9.4 adds option to copy original/stamped photo to iCloud drive. Settings > Capture settings > Save to iCloud Files:

Capture quality
Pick from either High, Medium (default) or Low.
Timestamp format
Tap on a timestamp settings row to open a format picker: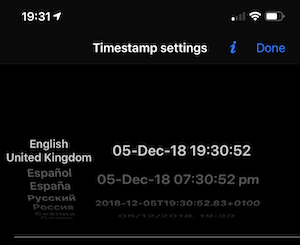 The app tries to give you enough formats and languages here. All language options present in your iPhone's settings > General > Language > Preferred Languages will be present here. Plus languages that app is localized into are added as well.
Hide/show timestamp
When timestamp field is hidden, more space is given to the address-note field. Settings > Capture settings > Timestamp is where this new option is located: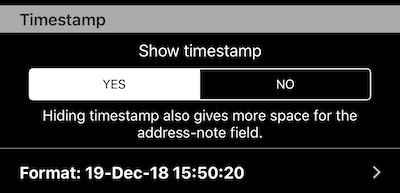 By default, date also is used for the photo title shown in the bottom comment overlay. If you want to use something else for the photo title as well, please tap on a "notes" button: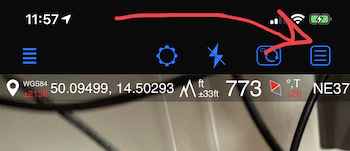 Switch to the "Manual" title and either erase the title or set something else that you need here: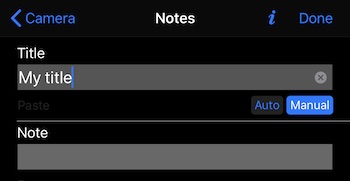 With this setup, the photo title will use your text.
Option to hide entire bottom comments overlay
Available from version 1.3 and allows to hide the bottom notes overlay in its entirety. You'll find this option in the Notes overlay section.
Option to hide entire top location overlay

This option has no effect on storing or not the location and direction data for the captured photo. Location and direction are always stored, this new option only affects either the top location overlay is shown or not on the stamped photo.
Hide/show coordinates, altitude and/or direction part in the location overlay
In addition to hiding whole location overlay, you can now pick if/either coordinates, altitude or direction part of the overlay should be hidden. Settings > Capture settings > Location overlay section: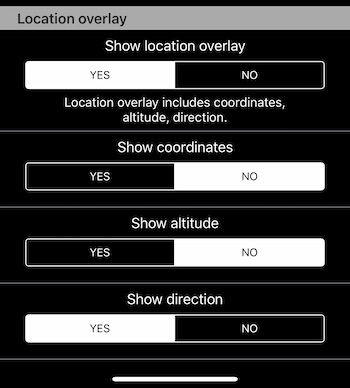 Color options for overlay texts and background
From version 1.3 you can customize both background and text colors for the camera overlays:

To configure colors of your choice, open settings and scroll down to the "Overlay colors" section:

If you want to return to either original text or background colors, please use "Reset" buttons in the corresponding setting rows.
As for the color picker, both HSB: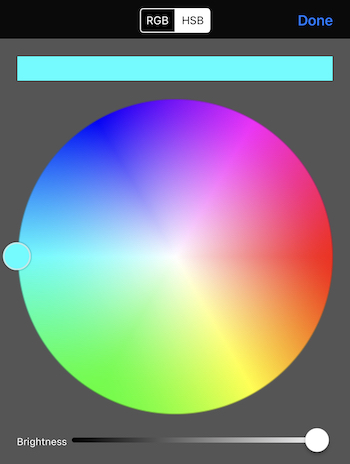 and RGB pickers are available: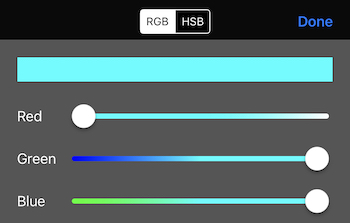 Please keep in mind that overlay background has some transparency set - thus the background color will be always be a bit "pale" in the color picker.
Thanks to Jerry for his request to add this feature.
Camera grid
Version 1.3 adds a 3x3 grid option. If you need a grid, say YES to it in Other overlays section.
Custom watermark
Version 1.4 adds ability to setup a custom watermark. Custom watermark includes text, image and allows to define background and text colors:

Configure it via Settings > Capture settings > Watermark section. Tapping on a watermark section row opens watermark editor. More on a watermark setup.