GPS Team 55.
GPS Team 55 allows you to see your own and your team members location on a map in a real time.
New:
Version 1.1 adds a personal GPS beacon function and a battery level/status in member's row.
---
Soon: Version 1.3 will be adding following functions:
Voice coach to remind you a tracked/passed distance/time and current altitude/speed.
Account to enable synchronization of points, tracks and server side notifications for team member alerts and track/point changes.
Version 1.3 has reached the public beta stage. If you want to take it for a spin, you can download it free of charge by tapping on this link:
https://testflight.apple.com/join/4tQ9rkpT
---
GETTING HELP AND SUBMITTING FEEDBACK
You can always reach us at teamwork@blocoware.com . If there is no reply within 24 hours, please check your spam folder as we do reply to every support email. Our phone number is +420 724 730 447 (also Whatsapp and iMessage), but we'd prefer if you contact us via MENU (bottom-left team button) > FEEDBACK & SUPPORT > "Email developer", as support email will contain information on your device model and iOS version.
WORKING WITH THE APP.
Lets go through the main controls and indicators in the app: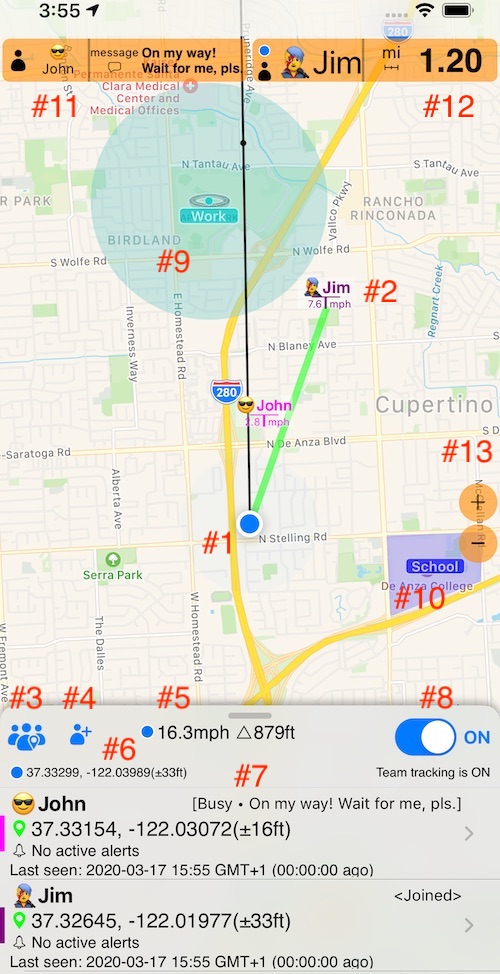 Your own location on the map.
Your team members on the map.
Main menu button.
Button to add a new member.
Speed and altitude for the currently followed team member or Yours, if no team member is being followed.
Your current coordinates and horizontal accuracy of your location.
List of members. Collapsed by default, drag the drawer up to see the list. Tap on a row with a team member for options to edit, re-invite member, show a line between you and member or center map on a member's location.
Team tracking ON/OFF switch. When team tracking is OFF your location is not sent to the server and is not shared with your team members. Team members locations are not updated for you as well. When you turn the tracking back to ON, the most recent location of every team member will be provided to you, if team members have been tracking meanwhile.
Circular zone.
Polygonal zone. For zones, alerts on entering and leaving can be setup for yourself and your team members.
Customizable top-left corner section that can show yours or member location data or status/message.
Customizable top-right corner section.
Zoom in/out buttons.
Black line on the map is an optional course line to show your current course. Optional green "target" line can be shown between your and a team member.
You start by inviting a new member by tapping on a #4 button:
Assign new member a name and enter your own name for the member's team.
Send out the invitation.
Wait for the member to accept the invitation.
See member location on a map once she accepted the invitation.
HOW TO:
Apply invitation code and join another team.
Adding and editing overlays on the map.
Setup individual zone and value alerts for team members.
Center member on a map.
Tap on a member row and pick "Center member on a map"
Show a line to a member.
Tap on a member row and pick "Set as target"
Show a line of your course.
Hold your finger on a map and pick "Show course line".
LIMITATIONS FOR NON-CELLULAR IPADS.
Please note that wifi only (non-cellular) iPads don't have a built-in GPS chip. If you use the app on such a device, your location, shared with the team, will not be exact and will correspond to the wifi triangulation accuracy (about 65 meters, 200 feet). To improve location accuracy for your wifi only iPad you can pair it with the compatible external GPS module.
PRO PACK SUBSCRIPTION.
Information on a PRO PACK subscription
---
MORE APPS FROM US
GPS Camera 55. Capture photos stamped with location, direction and notes.

Land navigation and compass app

Speedometer 55 PRO. Mileage and speed tracker.

Planimeter 55. Measure area, perimeter, distance.

Professional GPS taximeter