Add, edit or delete a team member.
This window allows you to create a new member, update name or color for the existing member or re-invite the member that has not accepted the invitation yet.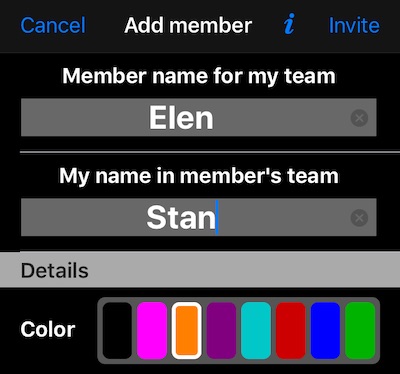 Fill in name for member in your team and then name for yourself in the member's team. It is a good idea to use short, but meaningful names.
In the screen above, Elen will be a member name in your team and Stan will be your name in Elen's team when/if Elen applies your invitation code. Elen can always change your name in her team. You can change any team member name later as well.
Pick a color (black will be used by default).
If you are adding a new member, tap on Invite to generate an invitation code for the new member: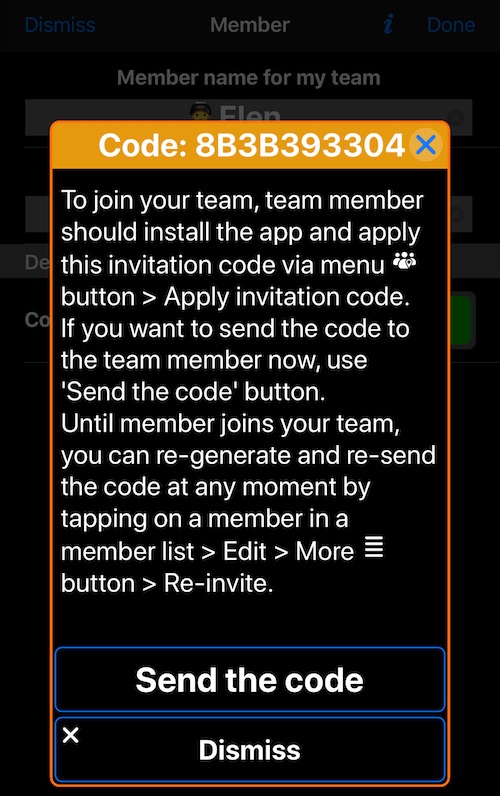 When invitation code has been generated you can just tell it to the joining member or use "Send the code" button to send the code and link for the app installation via email, messenger, etc.
When joining member installs the app and applies the code, she will be able to see your location on a map (if you have team tracking enabled) and vice versa.
If you need to edit this member later (name or color) or re-invite her, tap on a member's row, pick Edit and use More (#1) or Delete (#2) buttons in this window:

---
Related pages: