Water sports boat mode
MENU > MODES > Water sports boat mode
This is done for scenarios when sound alert is not audible (a motor boat!) plus you need to be on shore before the sunset or you'll be penalized! Alerting by flashing with the digits background is good for attracting the peripheral vision.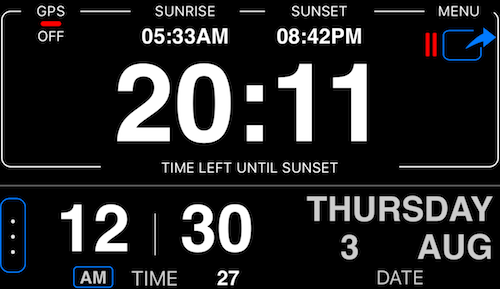 Related information:
Flash with speed digits background for overspeed.
This feature is available only in the full version. You can upgrade by tapping here.
---
All modes: Default mode ▪︎ Waypoints monitor (e.g. speed cameras) ▪︎ Rally computer ▪︎ Taximeter ▪︎ Map ▪︎ Heads up speed display ▪︎ Full screen speed display ▪︎ Full screen map display ▪︎ G Force acceleration monitor ▪︎ Land navigation mode ▪︎ Idle timer and alert mode ▪︎ Water sports boat mode ▪︎ Paragliding mode