Heads up (reflection) mode
In HUD mode, you put phone or iPad under a windshield and see speed via reflection: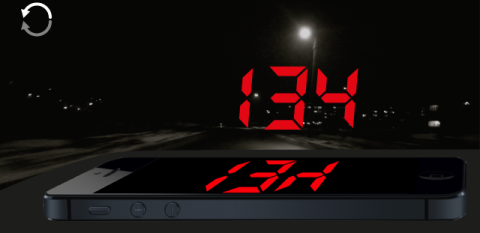 HUD screen can rotate to any orientation to enable you having the power plugged in from any side. When in HUD tilt the phone a bit in a direction of a windshield so it orients itself for the right reflection angle.
HUD is good during the evening and night. You can adjust the hud brightness in the settings, but experience shows that during a day even maximum brightness is not enough for a good reflection.
To close HUD screen tap on a close button:

Here is what you can do with heads up screen:
Free and full versions:
Rotate to a landscape orientation for huge speed digits.
Double tap on speed digits to switch to a non reflected full screen mode.
Swipe left or right on speed digits to switch between speed limits.
Full version only:
Hold your finger on speed digits until HUD options open to allow night mode setup for a hud screen and to show extra information (Time, Altitude, Total and Current trip distance or GPS course).
Change colors for speed digits and brightness (via "Advanced Settings" > "Heads-up options").
Lock screen orientation via the "lock" button in HUD screen:

This lock is not working on iPads as Apple explicitly forbids apps influencing screen rotation anyhow on iPads.
More information on HUD:
HUD - heads up or reflection mode. Tell me more!
Heads-up and full screen in version 1.6 - video review
---
Some of features described are available only in the full version. You can upgrade by tapping here.
---
All modes: Default mode ▪︎ Waypoints monitor (e.g. speed cameras) ▪︎ Rally computer ▪︎ Taximeter ▪︎ Map ▪︎ Heads up speed display ▪︎ Full screen speed display ▪︎ Full screen map display ▪︎ G Force acceleration monitor ▪︎ Land navigation mode ▪︎ Idle timer and alert mode ▪︎ Water sports boat mode ▪︎ Paragliding mode