Flash with speed digits background for overspeed.
Available from version 1.8.
If speedometer's sound alert is not loud enough for you, here are more visual options to alert you when over the limit. "Advanced Settings" > "Flash alert":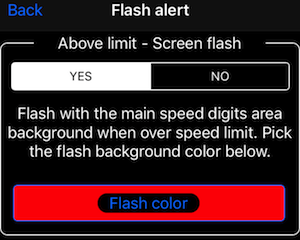 If screen background flash alert is enabled, you can additionally setup the background flash color (tap on a Flash color button). By default background will flash with a red color.
This only works on the main screen, not in the HUD or full screens. If you need this for the rest of screens, please let us know.
Used in the mode:
Related information:
Give me more speed digit colors! HUD and regular modes.
---
Beta version has also ability to flash with the camera flash. If you need this option, drop us a line to get the beta version.