Charging idle time when min mileage is set
When you set minimum mileage allowance in the tariff you start your trip with, you have 4 options for how to cope with idle (speed lower than) time before the minimum mileage is reached.
By default option #1 applies and idle time charge is always added to a meter as it comes.
To change the option, open app settings and tap on right top "Advanced" button:

Scroll to the bottom and tap on a "Handling min mileage idle time charge" row: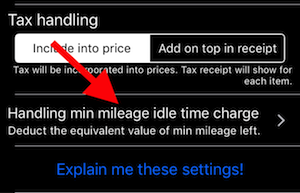 All 4 above mentioned options will be in the present list of options, pick the one you think matches your business or tap on a settings button on each option's row to open the documentation page.
After reaching minimum mileage, idle time charge is always added to the meter immediately as it comes in.
Related links:
Working with detailed breakdown receipt
Explaining advanced settings in the app