Compass 55. Version 1.9.4. What's new?
Barometric vertical speed indicator (VSI).
A new option for the bottom/left panel.
Gives ability to measure vertical speed based on a built in barometer (present in iPhone 6, iPad Air 2 and later). In iPhone's portrait orientation show a graph, giving a bit of a history view over values:

In landscape orientation provides an instantaneous VSI scale:

Units provided are ft/min, meters/min, meters/second. Tap above unit label to set.
Scales provided are 10x, 100x, 1000x for meters and feet per second, 0.1, 1, 10 for meters/second.
Use 3 dots button on top or left side to get more information on this panel or switch to a different panel. You can also switch between these small panels by swiping on them left/right in iPhone's portrait orientation and up/down in landscape.
Please note that as with all barometers, readings will lag a bit (1-3 seconds). I was trying for a day to apply some filters to the readings until I understood that Apple already applies them. So in the end I'm just using the values as they come from Apple.
Love for magnetic declination
Making it clear for both true and magnetic norths - which one is used and what is the declination. Both current, at you location, plus for any point on a map. By default showing declination is switched off and you turn it on in settings > "Compass & Course":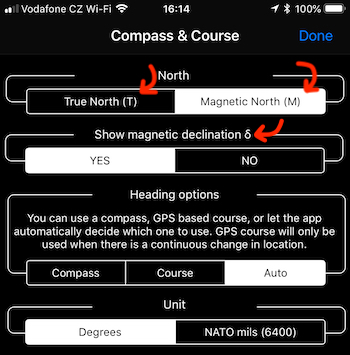 Please also note that True and Magnetic north switches now have T and M appended in brackets. Having magnetic declination display to YES, where you'll find it? Here is the main screen: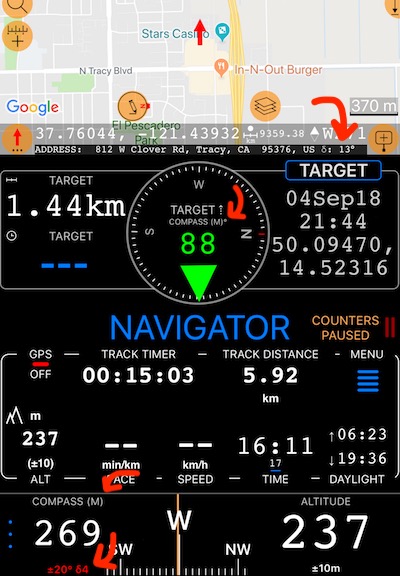 Top down: you'll see declination δ in the address row. This is a declination at the map center, where red arrow points. Then COMPASS label in the app will now always show COMPASS (M) or COMPASS (T), so you'd always now if magnetic or true north is used. At the bottom there compass accuracy label that is now enhanced by a declination value for the current location.
Use of declination doesn't require data/internet as values are calculated based onto built in World Magnetic Model.
Voice coach. (PRO)
When enabled and configured, voice coach will be telling you active track distance and duration as well as current speed and altitude.
In the current version, voice coach is only running when GPS track is being recorded. This ensures that coach provides exact and reliable information, for app running either in foreground or background.
App gives a hint if coach is enabled or disabled (by default). When you tap on a MENU button, hint is on top of the "NEW TRACK" button:

Until you start a new track, this is just a label and to access voice coach configuration you can delve into Advanced Settings > Voice coach.
Once GPS track recording is running, this hint becomes a button:

Tapping on it will open voice coach settings: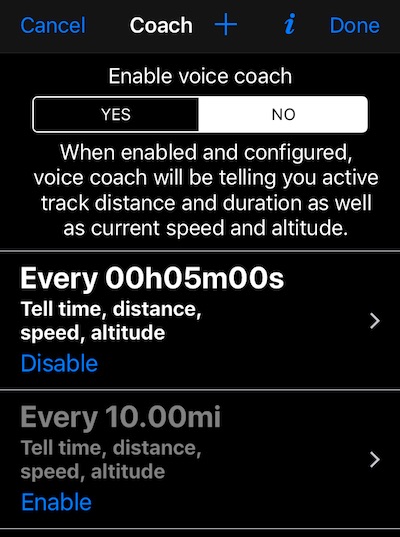 You can read more on a coach here: Voice coach .
Siri shortcuts
In the current version app allows you to start and stop GPS tracking via Siri shortcuts.
How it works? First, let the app donate these shortcuts to Siri by starting and stoping the track first. MENU > NEW TRACK and MENU > STOP TRACK will do. Then visit Siri settings for the app in the iPhone/iPad settings, find the app and pick "Siri & Search". Shortcuts will be first between "SUGGESTED SHORTCUTS". To make them yours, tap on a plus on a row with a shortcut suggestion and record your own voice command for starting and stopping the track.
From now on you'll be able to start and stop the track via Siri shortcuts and also integrate these shortcuts in the "Shortcuts" app.
This is just a beginning and all ideas on Siri shortcuts are very welcome!
Privacy Policy
Added a page to the documentation site and also a button to the Feedback screen, so you can explore the Privacy Policy for the app .
---
This is it for version 1.9.4, I'm back to adding new features for the next version! If you like the app and would not mind supporting it, please review or rate the app. As easy as tapping here and leaving me a few words ! Yours, Stan, the dev.
---
Previous releases:
Versions 1.9.2 and 1.9.3 improved cancelling map centering experience and transition between navigation and search/browse modes.
Version 1.9.1 (August 2018) Tiny compass on all maps, Google map for all map screens (pro), move waypoint on a main map, select multiple waypoints for delete and export (pro), and more!
Version 1.9 (May 2018):
Measuring routes and areas (planimeter).
Export of planimeter objects (Routes and Areas)
Area and length units of measurement (planimeter).
General units of measurement - Metric, Imperial, Nautical.
Distance units of measurement.
Altitude units of measurement.
Automatic switch from small to big units.