Compass 55 privacy policy
This policy details the information on how information can be collected or used by the Compass 55 app.
Information We Collect.
Compass 55 app is not collecting or processing ANY information outside of the need to show you the instant GPS data and statistics or record coordinates/speed/altitude to a local to your device file storage as part of the track recording activity.
Information that Compass 55 has access to is NEVER shared with 3rd party agencies or companies. Real time and historical information that Compass 55 may record in form of GPS tracks never leaves your device, unless you share it explicitly by means of sharing your location, sharing or exporting tracks, or by means of enabling a GPS beacon function.
The app is not using or integrates any Analytics, Ads or Crash SDKs. Someone may say this is a shame, but your privacy is totally paramount to us.
If you use Google Maps.
If you choose to use Google Maps as your map source within the app then the services and software used to display these maps may collect information about you. Please refer to the Google Privacy Policy for more information.
If you use Apple Maps.
If you choose to use Apple Maps as your map source within the app then the services and software used to display these maps may collect information about you. Please refer to the Apple Privacy Policy for more information.
[Updated 4-Jun-2020] If you use GPS Beacon function in the app.
Function of a GPS Beacon includes sending and storing your location data on the server. Here are some statements on security of data and communications:
All communication with the servers is happening over https.
Your location breadcrumbs are sent to your personal GPS beacon (server) only when you explicitly enable Beacon in the app and track recording is active. After beacon creation you can always enable and disable the beacon at any moment.
If you setup a password for your GPS beacon web link, only one-way hash of your password concatenated with a salt is stored.
All messages from the app to the server are signed and validated with the unique key exchanged between server and the app when your beacon is first created.
Request for the beacon creation is signed with the server/app key.
If you delete your beacon history via the app, it is deleted immediately.
History cleanup is happening on servers every 15 minutes and thus history data stored may exceed the number of hours setup by you by 15 minutes.
There is no identification of your IP address, device id or anything else stored (or sent) on the servers, that might relate your location records back to your device or to yourself.
Servers infrastructure and data storage is provided by the app owner/developer (Stanislav Dvojcenko, EU citizen, Czech Republic) and his company Kalimex-Consulting s.r.o. (EU, Czech Republic) in compliance with EU laws for the data privacy.
If you send us information.
We collect information that you choose to send us by emailing us via support emails. This includes your email address, name and other information that you provide. This information never leaves our email box. We use Google mail and Google authentication services.
Updates.
This policy might be updated from time to time. But our commitment to stay away from any analytics and 3rd party components that might put your location and tracking data at risk is absolutely paramount. Given this, we will always be happy if you drop us a few lines on how do you use the app!
Your Consent.
By using Compass 55 app, you consent to our privacy policy.
Questions.
Please contact compass@blocoware.com with any questions.
App Store data collection disclosure requirements and GPS Beacon function in the app.
The app states "No data collected" in its data collection "nutrition label" in App Store based on the following Apple guidelines for optional disclosure on data collection:
Apple requirement.
Collection of the data occurs only in infrequent cases that are not part of your app's primary functionality, and which are optional for the user.
Developer justification:
The only function that facilitate sending any of the data (location) to the server is GPS Beacon function. By default this function is turned off and requires explicit enablement from the user to accompany the GPS track recording function and only if both are switched on (GPS track recording and explicitly GPS Beacon), data are sent to GPS Beacon server for the track.
Apple r****equirements.
The data is not used for tracking purposes, meaning the data is not linked with Third-Party Data for advertising or advertising measurement purposes, or shared with a data broker. For details, see the Tracking section.
The data is not used for Third-Party Advertising, your Advertising or Marketing purposes, or for Other Purposes, as those terms are defined in the Tracking section.
Developer justification:
None of the data that GPS Beacon records is shared or transmitted to 3rd parties. Recorded by GPS Beacon data only serve the purpose that GPS Beacon function provides to you. You can delete that data at any moment, password protect access to it or record the data without enabling the web based access to that data (url/web link).
Apple r****equirements.
The data is provided by the user in your app's interface, it is clear to the user what data is collected, the user's name or account name is prominently displayed in the submission form alongside the other data elements being submitted, and the user affirmatively chooses to provide the data for collection each time.
Developer justification:
Not only GPS Beacon is an entirely optional function, the user is also provided a clear indication if they start GPS track with GPS Beacon enabled or not (GPS Beacon is disabled by default). In the NEW TRACK button: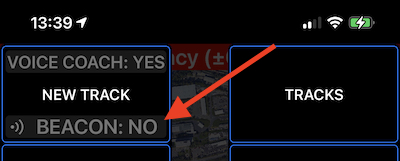 GPS tracking indicator that is present on every screen in the app also has a sub-indicator within it so you can clearly see if GPS Beacon is enabled for this track: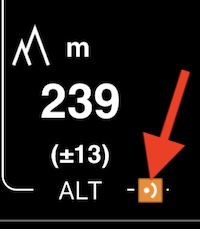 ---
We believe that this fully justifies Apple requirements for optional disclosure on a data collection clause in the App Store.
Updates log.
[7-May-2021] Added section on "App Store data collection disclosure requirements"
[4-Jun-2020] Updated to include section on a GPS Beacon function and update relevant information in the "Information We Collect" section.