Integration with Square Point Of Sale (POS) app.
Starting from version 1.7 you can use integration with Square POS for:
Taking credit cards, Apple Pay and other types of payment supported by Square.
Note that not all of the payment types are available in every country.
If you are already using Square, this is easy - all payment types you use (including Apple Pay) will be still available to you when Taximeter switches you to Square for receipt settlement and printing.
More information from Square on international availability.
More information on supported credit cards.
Printing receipt via supported by Square mobile printers.
Note that Square POS app language support is limited.
I'd be happy to tell "you'll print your receipts", but you might run into your language not being supported for receipts printing/emailing.
Please check Square languages coverage as it is subject to change over time: https://squareup.com/help/us/en/article/5234
Here are languages supported for receipts printing/emailing at this moment (2-Feb-2018):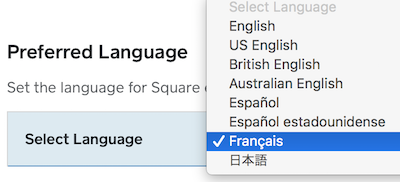 And for supported printers you can read here:
iPhones: https://squareup.com/help/us/en/article/5642-supported-hardware-for-iphones
iPads: https://squareup.com/help/us/en/article/5084-supported-hardware-for-ipads
Book keeping for your receipts and sales.
Square allows you to consolidate all of your sales with nice reporting options.
Square integrates customer feedback workflow.
Square allows you to gain feedback from your customers.
How integration with Square POS works?
It is really simple, on a receipt screen, use "Payment - Square" button: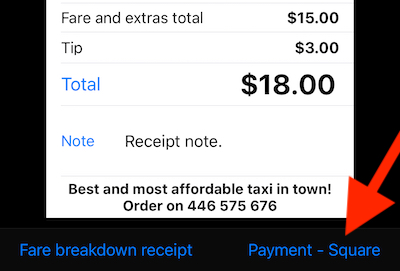 to switch to Square POS app automagically so you can settle the payment and print the receipt. No need for extra logins. Data on receipt total, tip/discount and note you've added will be transferred to Square for payment and Square's receipt pre-population.
After payment and/or receipt printing Square POS app will switch you back to the Taximeter app to continue with your business. Nothing complicated.
Integration with Square Point of Sale app is part of the "unlimited trips" in-app purchase. If you've already upgraded, "Payment - Square" button will just switch you to the Square app. If you have not upgraded yet, what are you waiting for?! :). It is a one-off and only in-app purchase in the app to get unlimited trips and Square in one package, NO subscriptions!
More information on Square integration:
Square Point Of Sale settings.