GPS Camera 55. Version 1.7.
Optimizations for iOS 12.2 (Free + PRO)
iOS 12.2 brings a lot of opportunities to optimize the apps. The app takes advantage of this for:
Faster app startup
Smaller memory footprint.
Smaller download size
To enjoy all of these benefits, it is enough to have iOS 12.2 or higher on your iPhone and having the latest version of the app.
Option to lock access to the app with PIN and biometrics (PRO)
From version 1.7, PRO users have an option to lock access to the app based on a PIN code or biometrics: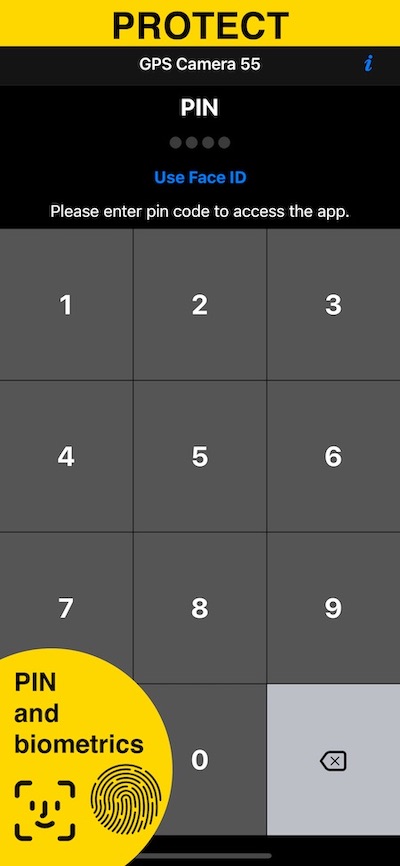 More information on access protection options and settings.
### Copy button for the address field the notes editor (Free + PRO) ###
Allows to copy automatically resolved address from the notes field:

### Bug fixes and improvements (Free + PRO) ###
Fixed accuracy reading in the location overlay of already existing images, now it should correspond to the original accuracy at the moment when the photo was taken. Good thing is that the fix will apply to the images taken before this version/fix as well.
Added Yandex.Maps to point navigation options (option will show and work if you have Yandex.Maps installed).
---
This is it for version 1.7 - May 2019. Version 1.8 is the next one on the list. Feel free to add ideas and suggestions (it's support@blocoware.com to drop a line to).
And if you find a minute to support the app by reviewing/rating it in the AppStore, you can do it by simply tapping here .
Thank you!