iPhone and iPad taximeter. User manual
This page is only for older app versions, from version 1.6.2 please use a taximeter mode !
Built in taximeter gives you a professional GPS based taximeter with ability to add multiple tariffs, add extra fare as you drive and set fare per kilometer or mile, or even time. For time fare you can charge continuously or only when speed is lower than certain threshold.
Taximer is available from version 1.5.1 for iOS5.1, 6 and higher and by default is hidden.
Adding taximeter.
You can switch it on by tapping on info-settings button:

Then continue to "Advanced settings" and then to a "Cost dashboard":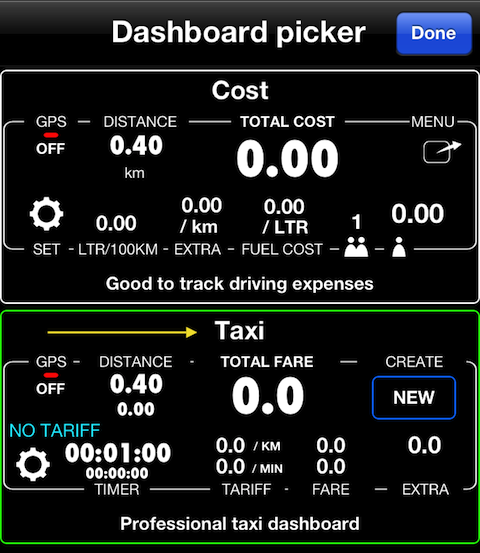 Tap on Taxi dashboard option (its borders will turn green) and get back to the main screen by series of "Done".
The rightmost dashboard is now a taxi dashboard: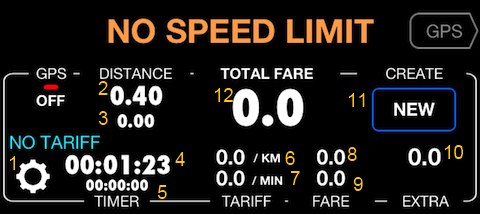 Lets go through the controls here:
Tariffs control button. To manage tariffs and apply the active one. You can change tariffs as you drive.

Total driven distance.

Charged distance. Dependent on tariff some parts of a trips might be charged per km or mile and some per minute. Here you see the distance that was charged for the whole trip.

Total trip time.

Charged time. Same as charged distance, dependent on a tariff you may for example only charge for time when speed is lower than 10 mph or km/h lets say. The rest might be charged per km or mile.

Fare per km or mile. If your speed setting is mph, you'll see mi (miles) here. If your speed setting is km/h, you'll see km here. This is a distance fare you set in tariff settings.

Fare per minute. Again, you set this up in a tariff.

Total fare for a charged distance.

Total fare for a charged time.

Total of extra charges in this trip. There is no button to add any yet, but we have not started the trip!

Button to start the new taxi trip.

Total fare, both for distance and time.
Lets start the trip? But wait, before we do, don't you think the "Total fare" is way too small for a taximeter? Lets employ the new feature available from version 1.5.2 and show total fare in BIG numbers instead of a speed digits?
Showing taxi fare with BIG digits!
Scroll to the GPS dashboard and hold "COST" arrow button for 2 seconds and release:

The selector menu appears:
[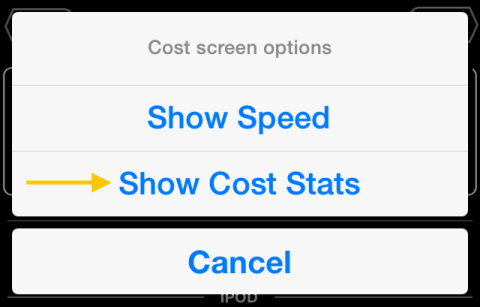 ](../taximeter/photo (2).PNG)
Pick "Show Cost Stats" and return back to the cost/taxi screen:
[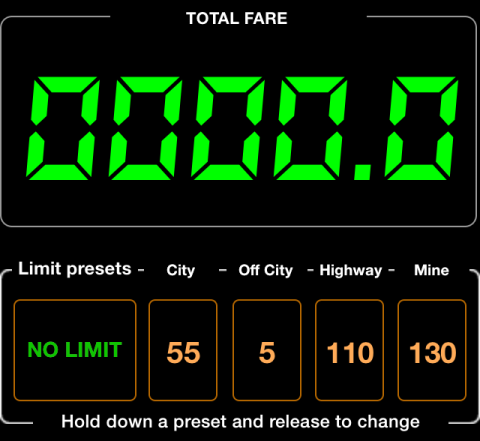 ](../taximeter/photo (3).PNG)
Better, don't you think? You can change number of decimal places display by double tapping on those big cost digits. And they are even bigger of course on iPad.
Configuring the tariffs.
Before we start our taxi trip, let's configure a tariff. Tap on a button #1 and you'll see a list of tariffs, now empty: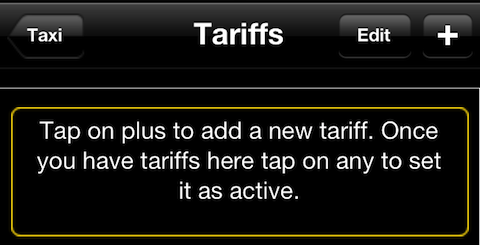 We've shown few screenshots already with kilometers, lets continue with showing some love for miles? Before opening the screen above I just switched speedometer to mph and now all the values in tariff will be for mph and miles.Tap on a plus button and lets configure our first tariff: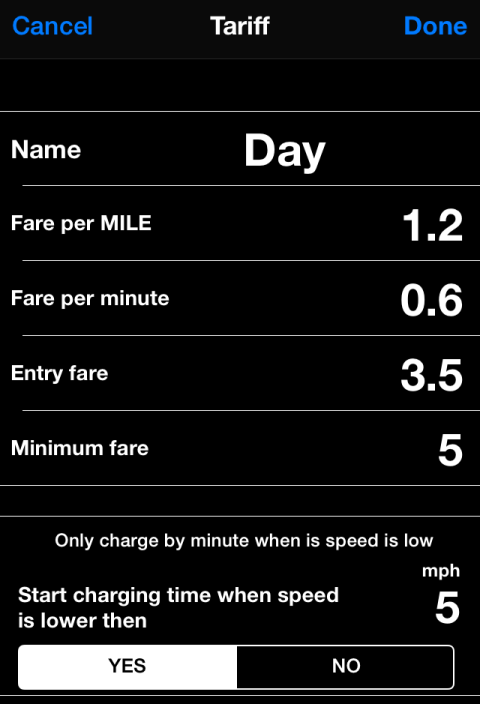 What's in tariff?
Tariff name - whatever suits you, it will be shown upon the tariff control button on the main screen.
Fare per MILE, Fare per minute
Entry fare - this is a one off charge to add to the trip when it is started.
Minimum fare - that's minimum charge for a trip. Let's say entry fare is 3.5 and minimum fare is 5. Then upon trip start, total fare will be 5 and extra charge will 3.5. As you drive or time passes but total charge is still less than 5, 5 will be shown as a total charge. Once sum of extra charges and distance or time fares will cross 5.0, total fare will start showing increasing numbers 5.1, 5.2 etc …
Time charge specifics - If you want to charge for time all the time or limit time charge for when you wait or speed is lower than some threshold, this is a section for you.
See for yourself what is the best tariff for you, and you can always experiment!
Can you start our taxi trip now? We are getting close to it ;)! Tap on the row with a tariff you want to use: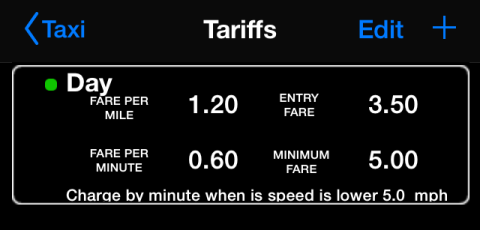 and return to a main screen.
Starting the trip and adding extras.
So passengers are in the car, with their heavy suitcase back in the trunk, we can now tap on the "NEW" button:

You can see all counters were zeroed and trip is now paused (pause image #14 is blinking now). You can start a trip with button #15 or stop with flag #16. A track indicator #19 shows that a new track has been created for this taxi trip (not important for us though).
Now we want to charge for that heavy suitcase in our trunk? Tap on button #17 to open extras window: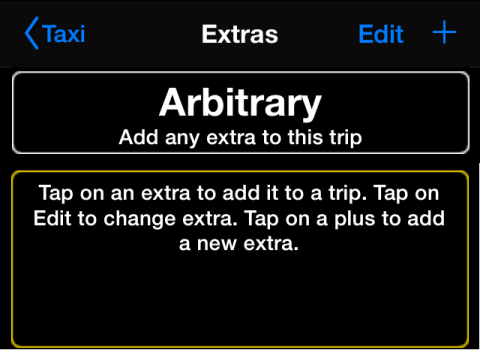 Here you can either add any arbitrary amount to a total fare by tapping on "Arbitrary" or as we are going to charge for luggage quite often, lets create a separate entry for it, by tapping on a plus button: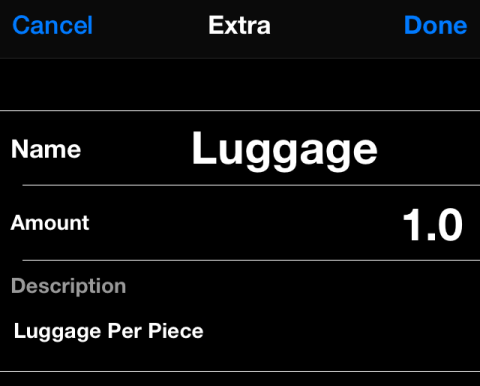 Now, whenever we want to charge for luggage we can just tap on the Luggage row in the extras list: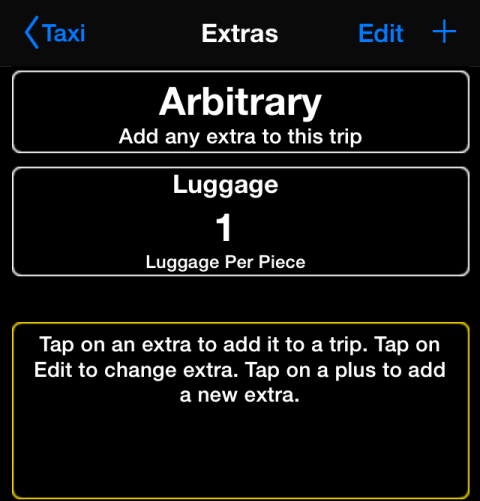 After we tapped the taximeter screen looks like this (remember number of decimal places for big cost digits can be changed by double tap on them):
You can see 1.0 is added to the total fare. And now it is finally the best moment to tap on START button and start driving. Let's see what happens on the screen: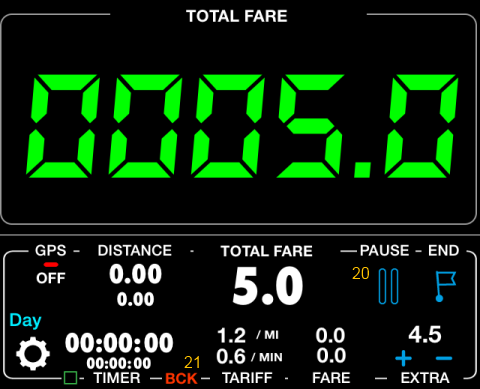 Minimum fare was applied, it was 5.0, so taximeter show 5.0. In extra field it shows 4.5. Remember we setup 3.5 as an entry fee for this tariff and also applied 1.0 for a piece of luggage, so it gives 4.5 for extras now. Also we can see new button #20 that pauses the trip and running charges. Background work indicator #21 shows you that app works in the background, so time, distance and charges will run even if the device screen is locked, call is in progress or you use other apps meanwhile (like navigation, for example). First time you start a taximeter, it will offer you to work in background automatically, we highly recommend you tell "OK".
I'm not going to drive for the purposes on this manual, as there is a charge for time when speed is less then 5 mph (remember?) that we setup for our tariff I can just sit and wait until charge for time will exceed the minimum fare to show you how it looks then: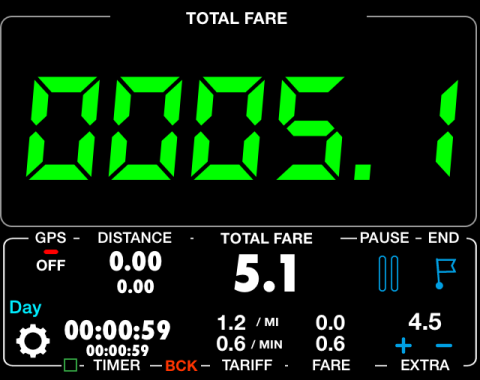 You see, now the charge for time is 0.6 and as extras of 4.5 and time charge are greater than minimum fare now, taximeter already shows 5.1.
You can also see and manage extras charged in this trip, use button #18, to invoke the trip extras list: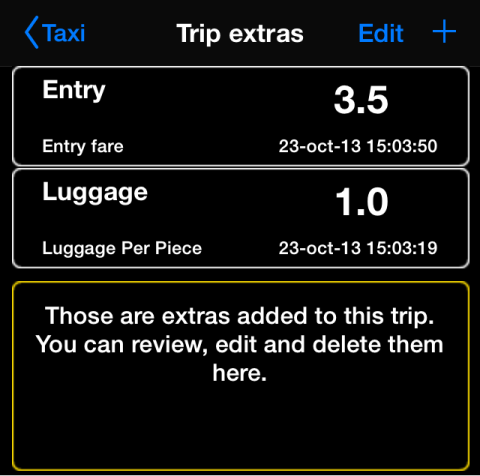 We can see here all the extras we have applied and delete them swiping on the row or using the "Edit" button.
Once we reached the destination we can use the END button/flag: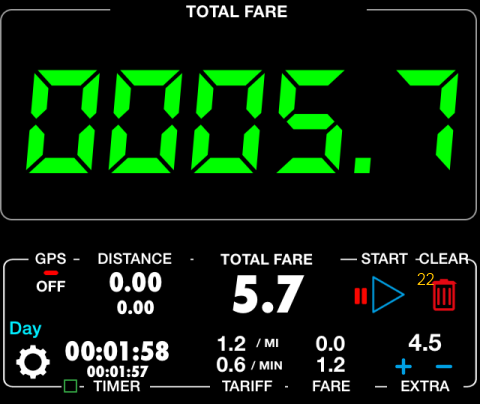 Taximeter is put on pause and you can either resume the trip by START button or clear/delete it totally with that rubbish bin button #22. So it is a good idea to settle the fare with a customer before tapping on a rubbish bin as you still have access to the trip extras. TIP: A discount you give to a customer can be an extra with negative value!
[From version 1.6] Taximeter tariffs switch (one tap and big!).
To activate, hold your finger on "Limit presets" button: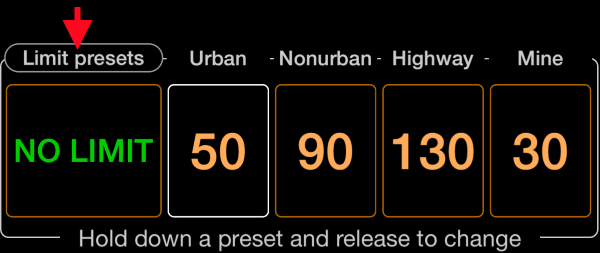 and pick "Taximeter tariffs switch" to be able to switch between tariffs with one tap: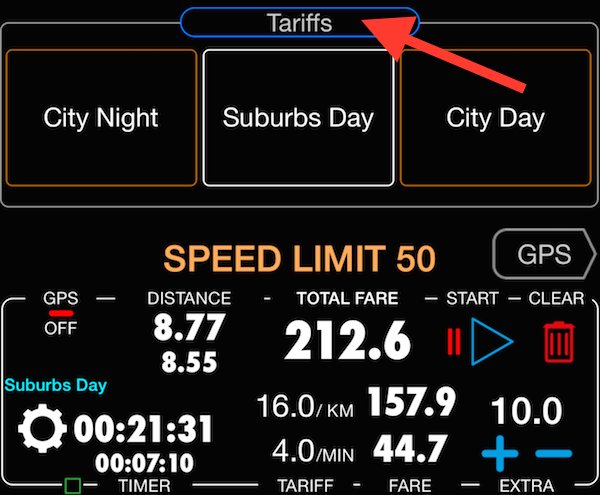 This is it! I wish you to be safe on the roads and let taximeter help you in your business!
Yours, Stan.
---