Gps troubleshooting screen.
Available from free version 1.9.6 and the full version 1.9.7.
Allows you to see raw values as they come from the location module.This way you can troubleshoot horizontal and vertical accuracy values and correlate them to the environment you are currently in. Either its just train or airplane or GPS acting up in iPhone - you'll find values to analyse here and also some guidance to start with.
**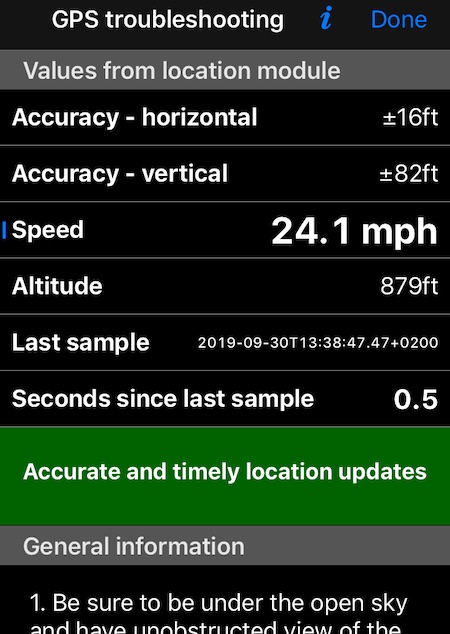 **
Top section in this screen shows location values as they come from the location module. Also date of the most recent location sample is shown and seconds passed since that sample until next sample comes.
Screenshot above shows the case of accurate and timely data coming from the location module.
When accuracy of coming data is low or when there is a delay between samples, this screen will give you a red status with a description of what is wrong. It can be:
- Low location accuracy
- Invalid speed reported by a location module
- Slow location update
Red status doesn't mean that there is a hardware malfunction! It's only a sign of either a GPS signal being low or some interference sources being around.
The screen also provides short troubleshooting steps needed to improve on location accuracy. That's both for general scenarios and specific to train or airplane.
If the general GPS troubleshooting steps available on this screen would not help, you can open a detailed GPS troubleshooting page, its link is:
Down to the bottom there is an option to show or hide the low accuracy red notification on top of the main screen.
At the end of this screen you'll find an option to email a developer of this app (me, Stan). If there is a problem that can't be diagnosed and resolved using this screen, please have no doubts to contact me. I do reply and help!
---
I hope you'll never need this screen and a fire extinguisher, but it's good to have these around?
Yours,
The little leprechaun inside the app.