Unlimited maps. In-app purchase
A gift to all full version users - unlimited number of offline and custom maps for FREE until the end of June! Be sure to grab it in "Advanced Settings" > "In-App Purchases".
You can always have one offline and one custom url map with no need for in-app purchase!
In case you need more maps, here is information on what types of maps are provided and what are they good for.
Offline maps
You can download maps when you have a good unlimited connection (e.g. via wifi at home) and then use maps with no need for internet. To download a map, you point speedometer to a map server/source that provides map tiles (images). Those images are then saved to your iPhone/iPad to be used later with no data connection. By default, in speedometer you have download sources for MapQuest street, MapQuest satellite and author's lab/beta map servers. Speedometer allows you to add more sources, here is a list of a few available .
What's the download size?
Total number of tiles/images depends on area and zoom levels you include into download. To give you an idea:
Monaco and Monte Carlo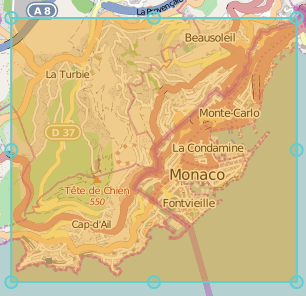 Size of download from the lowest to the highest available zoom levels will be around 10MB.
Las Vegas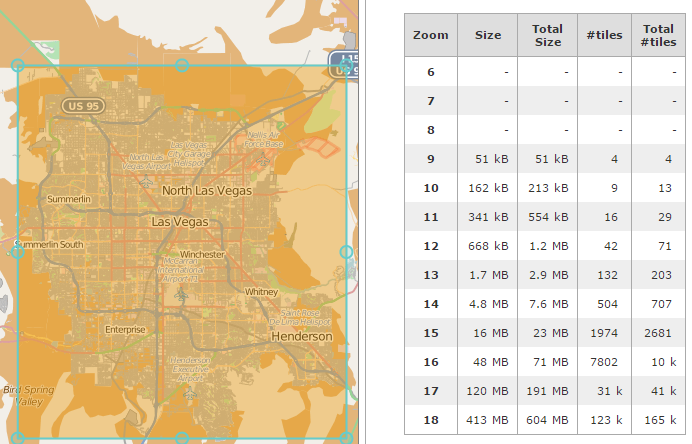 Zoom levels between 6 and 16 should be totallysufficient for driving, making whole Las Vegas map a 71MB download.
That's a lot of data?
Take it the other way. That's how much data you'd need to drive with an online map and that's what you can save by downloading it and driving with not even a bit spent from your data plan.
Custom maps
There are many map serversproviding you with awesome and specialized maps (topo, cycle, marine, etc). Mostof them are based on OpenStreetMap - a map of the world, created by people like you and free to useunder an open license. Examples of such maps are OpenCycleMap or Stamen maps .
Somemap servers provide data on a subscription basis, as MapBox, and you'd need toadd your license key into the url. All those servers can be added as mapsources.
Onceyou have url for a custom map server entered, you can either use it online orfor downloading offline maps.
Technical details
Supported projections Spherical mercator (Standard from Google Maps, used by the majority of map providers) Supported url parameters schema x coordinate, y coordinate and z (zoom) Maximum size of operational download for offline map 500MB Max number of offline maps Unlimited Max number of custom maps Unlimited
Future plans
In the future we plan to add support for an ellipsoidal mercator (Yandex maps is the only known provider) and quad url schema (used by Microsoft Bing maps).
More information
Map download size calculator from GeoFabric A gift to all full version users - unlimited number of offline and custom maps for FREE until the end of June! Be sure to grab it in "Advanced Settings" > "In-App Purchases". Monaco and Monte Carlo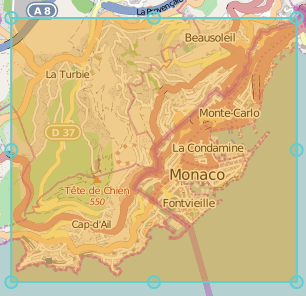 Size of download from the lowest to the highest available zoom levels will be around 10MB. Las Vegas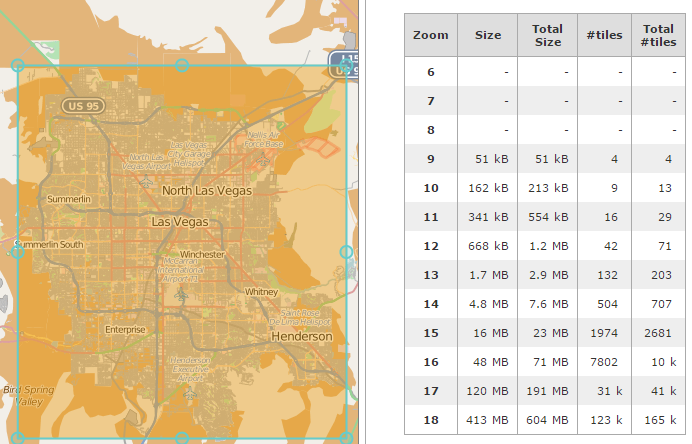 Zoom levels between 6 and 16 should be totallysufficient for driving, making whole Las Vegas map a 71MB download. Supported projections Spherical mercator (Standard from Google Maps, used by the majority of map providers) Supported url parameters schema x coordinate, y coordinate and z (zoom) Maximum size of operational download for offline map 500MB Max number of offline maps Unlimited Max number of custom maps Unlimited